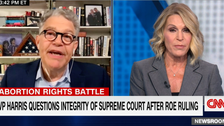 Former Sen. Al Franken (D-Minn.) put a GOP marketing campaign strategist on blast Saturday, repeatedly asking her to defend a declare about why Legal professional Normal Merrick Garland's Supreme Courtroom nomination was "held up" in 2016.
Franken and Alice Stewart, a CNN analyst and onetime aide to former Arkansas Gov. Mike Huckabee (R), had been weighing in on latest remarks by Supreme Courtroom Chief Justice John Roberts.
Franken advised CNN host Jim Acosta that he disagreed with Roberts' take.
He mentioned the courtroom's legitimacy was undermined years in the past, when a Republican Senate majority led by Sen. Mitch McConnell (R-Ky.) didn't "take up" Garland's nomination, submitted by President Barack Obama. On the time, McConnell cited what he known as a "longstanding custom" to not fill Supreme Courtroom vacancies throughout an election 12 months.
PolitiFact has described McConnell's "longstanding custom" declare as "misleading."
"They've stolen two seats: the one which Merrick Garland wasn't given a listening to for, and the one which [Justice Amy] Coney Barrett, the place she was seated every week earlier than the [2020] election," Franken mentioned. "That destroyed the legitimacy of the courtroom."
Stewart mentioned she wished to "throw a bit of accuracy" into what Franken mentioned, claiming that the Garland nomination was held up as a result of "we had a divided authorities ― we had a Democrat within the White Home and we had Republicans in management [of Congress]."
Franken instantly fired again: "That's not what McConnell mentioned."
"However that's the way in which, traditionally, this has been," Stewart replied. "Once you're near an election 12 months and you've got divided authorities … there usually is an inclination to attend ―"
"Inform me when this occurred earlier than," Franken interrupted. "Inform me when it occurred earlier than."