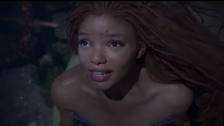 Disney's first trailer for its live-action "The Little Mermaid" reboot is making waves due to its eerily stunning visuals and the gorgeous voice of Halle Bailey as Ariel.
The teaser opens with photographs of a churning wave and an underwater world teeming with fish and turtles. It then options Bailey singing a part of one of many authentic film's most well-known songs, "A part of Your World," as she gazes up into the sunshine from the shadowy ocean flooring.
The preview debuted at Disney's D23 Expo this week, the place Bailey called the role a "dream come true" whereas talking onstage to followers.
"Being somewhat lady, swimming within the pool, imagining I used to be a mermaid ― I by no means thought sooner or later I might really see that come to life," she stated.
Bailey has previously spoken about how she's confronted racist backlash to being solid as the enduring Disney princess however took coronary heart in her grandparents' reassurance of how significant her casting can be for a lot of Black and brown women.
"It was an inspiring and exquisite factor to listen to their phrases of encouragement, telling me, 'You don't perceive what that is doing for us, for our group, for all of the little Black and brown women who're going to see themselves in you,'" Bailey told Variety in an interview revealed final month.
After the trailer was launched Friday, many individuals on social media have been sharing their pleasure over the brand new film.
"The Little Mermaid" is about to be launched Might 26, 2023